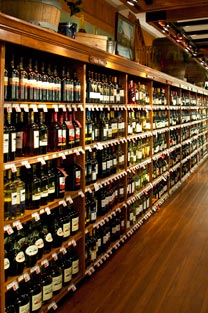 Our newly remodeled wine department features a wide variety of wines from all over the world. The world class offerings and the greatest French Champagnes are stored in a temperature controlled case. The broad selection of Washington wines include local wines produced by artisan Whidbey Island wineries. Imports include Italy's finest reds and whites, exciting Malbec reds from Argentina , French Burgundies and Bordeaux, Shiraz from Australia and elegant Ports and Sherries for after dinner enjoyment.
Look for great values and exciting new wines and vintages on our displays. Special orders by request.
The exciting world of wine is there for you to discover in the spacious and warm environment of the Payless Foods wine department.