Welcome to Payless Foods Store.
-
Payless Foods believes that in serving our community, providing the finest selection of products and making sure that every customer leaves satisfied, we are living up to the legacy and core values set in place by our Founders 73 years ago.
Payless encourages the use of our reusable grocery bags. For every reusable grocery bag you bring in, you as the customer will receive a 5-cent credit on your purchases and we match your 5-cent credit with a donation to the Good Cheer Food Bank. Using reusable grocery bags not only helps in the effort to save the environment but it is also helping to feed residents in need on South Whidbey.
Payless and their team members provide support to more than 20 local charities and service groups in the community. After all, this is where we live.
Payless is committed to being the leader in providing the finest selection of products and services to the South Whidbey community.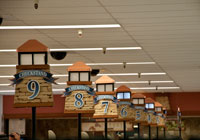 Payless prides itself on customer satisfaction. We have responded to customer suggestion by widening aisles, adding more check stands and increasing product selection, to just name a few. We value your input so please keep talking – we're listening.
Tom Brown
Store Director