Welcome to Payless Foods Store.
Until further notice new store hours will be 8am to 8pm
CORONA VIRUS UPDATES:
IMPORTANT MESSAGE FROM PAYLESS FOODS
We are implementing the following safety precautions for the health and safety of our employees and customers:
At this time we are unable to allow reusable Bags in our store. We are sorry for any inconvenience.
We are limiting the number of customers in the store to 50 at a time
We sanitize all carts and baskets with each use.
We regularly sanitize the surfaces at service counters registers and throughout the store.
We have marks at registers to help keep a distance of six feet between customers and employees.
Plexiglass shields have been installed at registers and service counters.
To help insure that the most at risk members of our community who must leave home to obtain groceries are taken care of, we are reserving Tuesday and Thursday from 8am to 9am for their shopping needs.
"During those times, we ask that the general public avoid shopping so that the store can be available for senior citizens 65 and over and other at-risk members of our community, such as pregnant women or those with compromised immune systems."
At this point in time we are now asking that you please only purchase 1-2 items of high demand product, such as, Paper products, Cleaning products & Healthcare products.
The grocery industry will be staying open, and there is not a shortage of groceries but due to PANIC shopping it has created an overload on our suppliers. If you will get back to your normal shopping habits it will allow us to get the store fully stocked again with available products.
Thank you for your patience and cooperation during this time!
Tom Brown - Store Director
Payless Foods believes that in serving our community, providing the finest selection of products and making sure that every customer leaves satisfied, we are living up to the legacy and core values set in place by our Founders 73 years ago.
Payless encourages the use of our reusable grocery bags. For every reusable grocery bag you bring in, you as the customer will receive a 5-cent credit on your purchases and we match your 5-cent credit with a donation to the Good Cheer Food Bank. Using reusable grocery bags not only helps in the effort to save the environment but it is also helping to feed residents in need on South Whidbey.
Payless and their team members provide support to more than 20 local charities and service groups in the community. After all, this is where we live.
Payless is committed to being the leader in providing the finest selection of products and services to the South Whidbey community.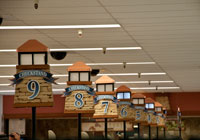 Payless prides itself on customer satisfaction. We have responded to customer suggestion by widening aisles, adding more check stands and increasing product selection, to just name a few. We value your input so please keep talking – we're listening.
Tom Brown - Store Director